The Carrier Strike Group is conducting engagement activities in the Indo-Pacific region as part of its 28-week deployment. The UK's Carrier Strike Group (CSG21), spearheaded by the aircraft carrier HMS Queen Elizabeth, has conducted exercises with units from the Royal New Zealand Navy (NZDF).
The international defence exercise in South East Asia is "developing interoperability and mutual understanding", the Commander of the Strike Group said.
The Royal Navy's Commodore Steve Moorhouse welcomed the New Zealand vessels and posted a video of the replenishment tanker HMNZS Aotearoa operating with HMS Queen Elizabeth.
The UK-led Carrier Strike Group is on a 28-week deployment, covering 26,000 nautical miles including passages through the Mediterranean to the Red Sea, from the Gulf of Aden to the Arabian Sea and the Indian Ocean to the Philippine Sea.
HMS Queen Elizabeth and the CSG21 recently departed Guam after successful maintenance and time ashore. 
In a tweet from its official account on Tuesday morning, Royal Navy Type 45 destroyer HMS Defender posted a video of the ship leaving Guam, saying "productive couple of weeks in Guam but it's great to be back at sea".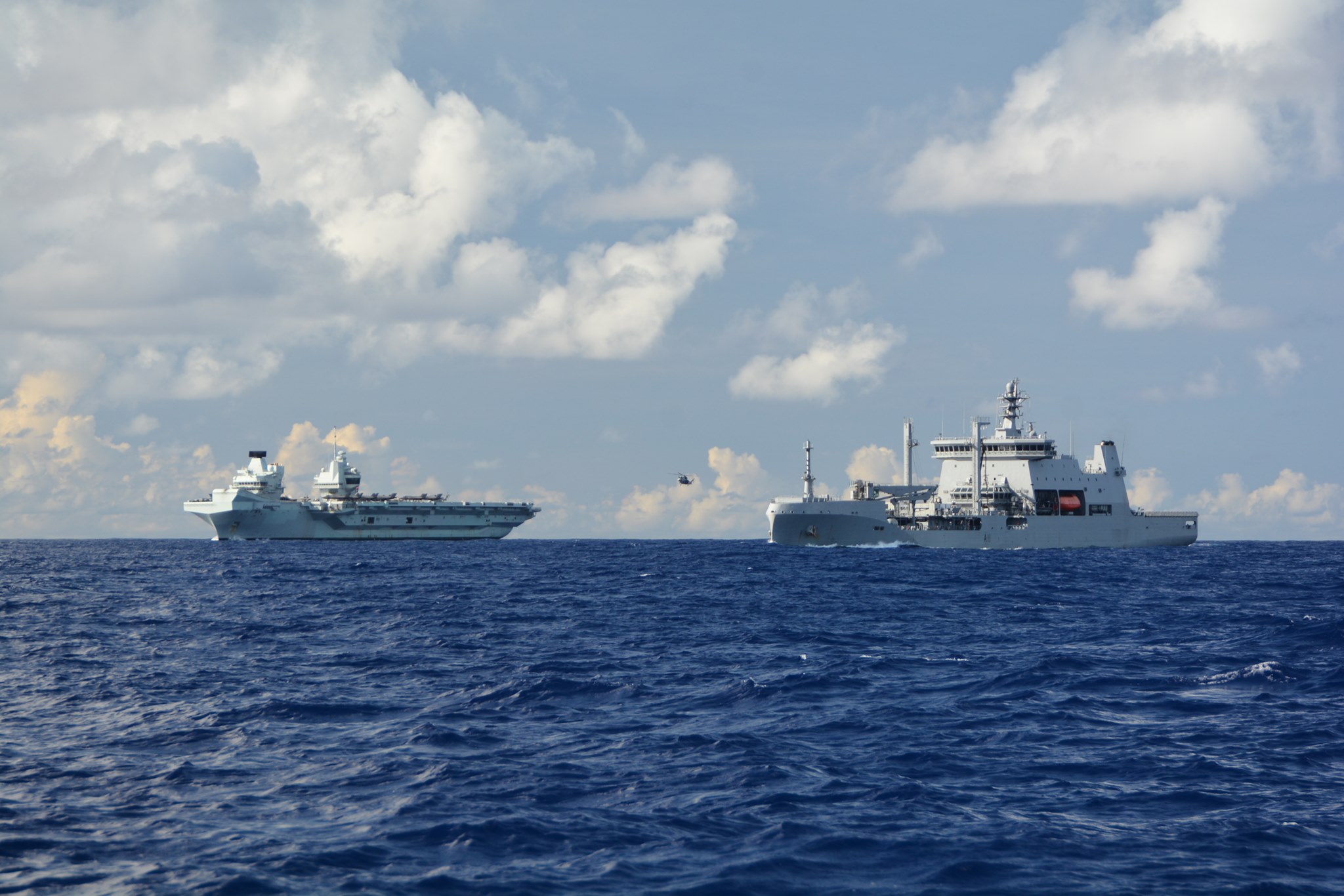 Royal wave HMS Queen Elizabeth sails off the starboard beam of HMNZS Aotearoa as both ships engage in a series of exercises after meeting up off the coast of Guam.

HMNZ Ships Aotearoa and Te Kaha will be working with the UK Carrier Strike Group (CSG), which is spearheaded by the Royal Navy's flagship – the 280m, 65,000 tonne HMS Queen Elizabeth, during the CSG's engagement in the Indo-Pacific region.

HMNZS Aotearoa and Te Kaha are en route to Singapore, to take part in Bersama Gold 21, a major exercise off the coast of Singapore and the Malaysian peninsula to celebrate the 50th anniversary of the Five Power Defence Arrangements (FPDA).

The FPDA is a defensive arrangement set up between Malaysia, Singapore, Australia, New Zealand and the United Kingdom.