A brand-new Navy ship is heading for New Zealand and is more than halfway to its new home.
HMNZS Aotearoa, which will be the largest ship ever to serve in the Royal New Zealand Navy, was about 75 nautical miles southwest of Nouméa at 3pm on Tuesday.
The $500 million supply ship was sailing steadily towards Devonport Naval Base in Auckland at a speed of about 15 knots (28 kmh), according to marinetraffic.com.
It earlier set sail from the South Korean port city of Ulsan, where it was built in the shipyards of Hyundai Heavy Industries, and is scheduled to make its first appearance in Waitematā Harbour on Friday.
At 173m it is longer than the 169m HMNZS Achilles light cruiser which served with the Royal New Zealand Navy during World War 2, or the 118m HMNZS Te Kaha frigate currently in service.
Its length is such that a wharf at the Devonport Naval Base had to be extended before her arrival.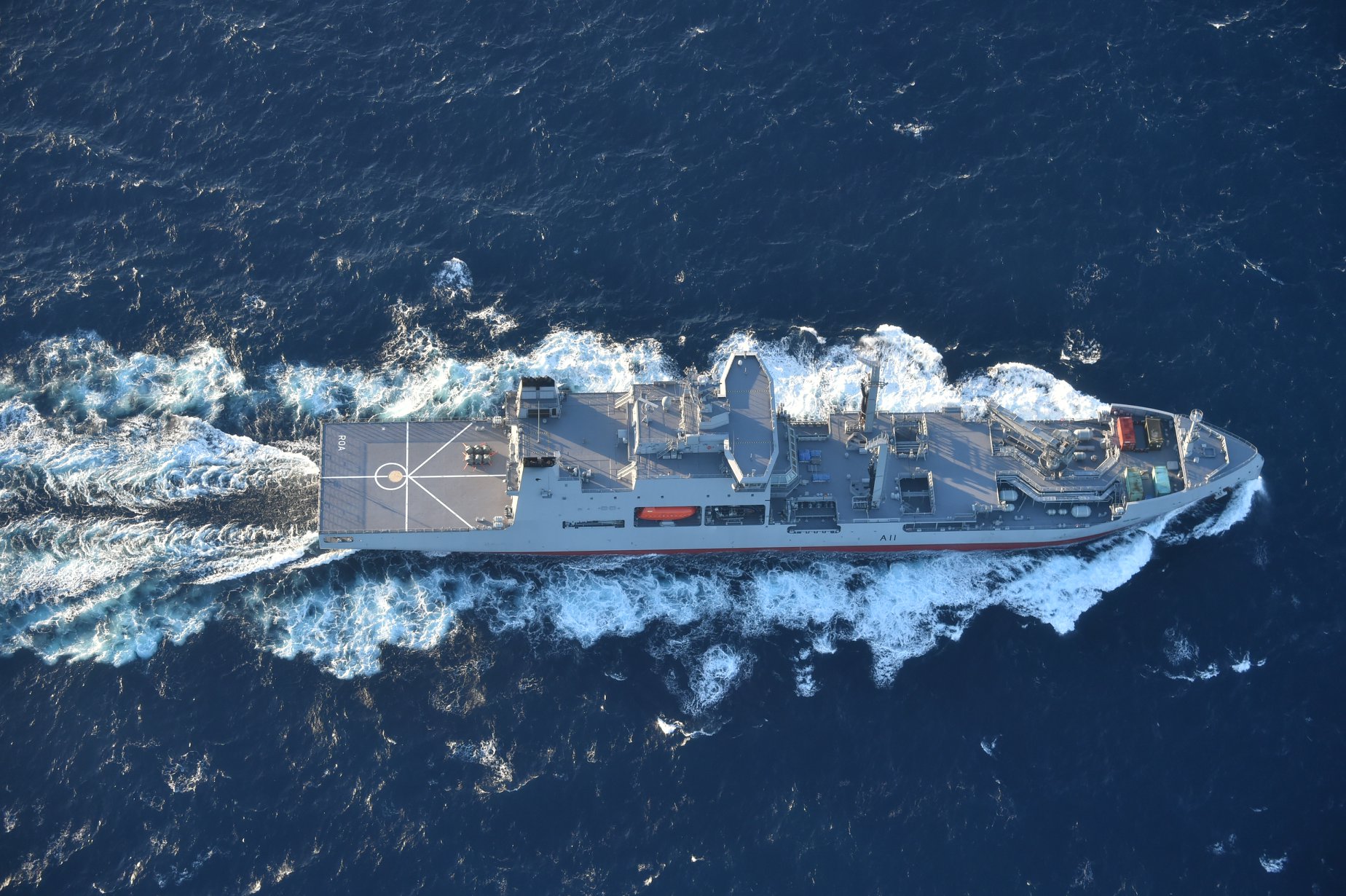 An NZDF spokeswoman said the Calliope South Wharf at the base was extended from 270m to 320m to provide simultaneous outboard berths for both the Aotearoa and an Anzac-class frigate.
New pneumatic fenders were fitted to the wharf to cope with the weight and mass of the Aotearoa, while a new shore power transformer was also installed.
As it sails to New Zealand, the ship is under the command of a Hyundai Heavy Industries captain and crew, though ten of the 49 people on board are NZDF or Ministry of Defence personnel.
Aotearoa's commanding officer, Captain Simon Rooke, did not sail on the ship but will meet her at the Devonport Naval Base.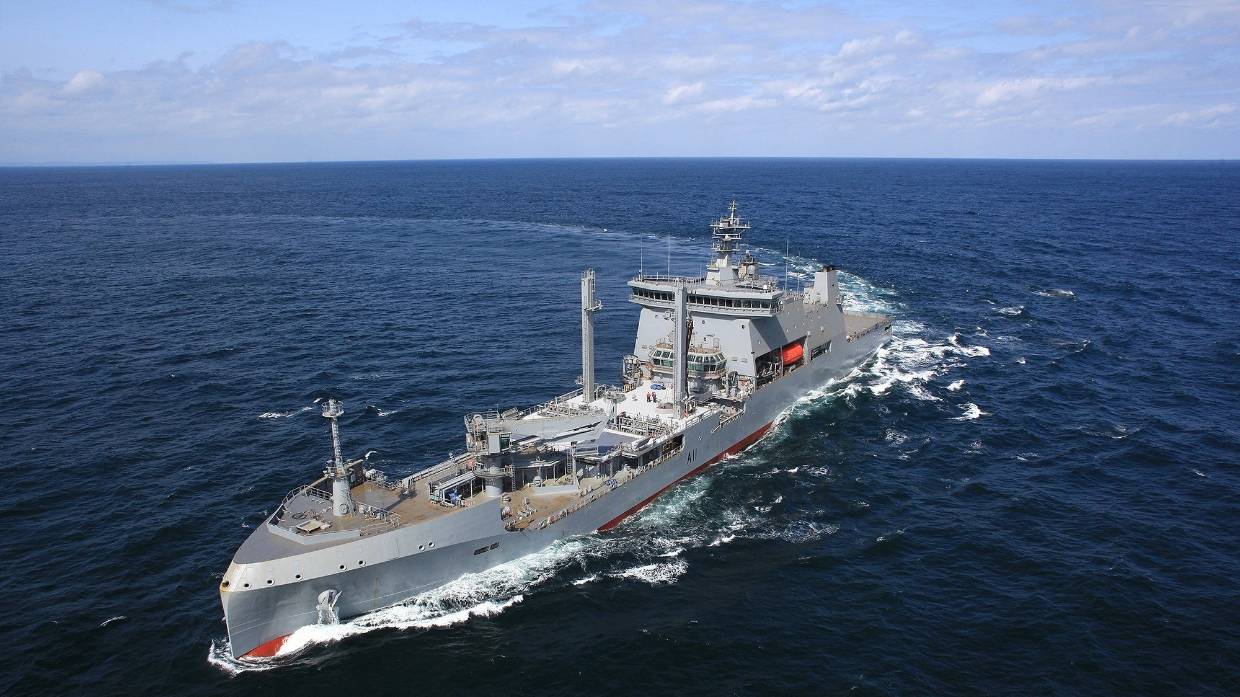 The spokeswoman said the passage from Ulsan to Auckland had been uneventful to date.
"There have been no performance concerns and Aotearoa's stability in the sea states encountered has been excellent.
"The ship is well constructed and handles well, considering she is lightly loaded with no cargo, making her a pleasant ship to be at sea on."
HMNZS Aotearoa was originally set to be delivered from South Korea in January 2020.
But coronavirus threw a spanner in the works of commissioning and delivery plans.
---
---
As Covid-19 cases spiked in South Korea in February, the NZDF decided to fly home some members of the Maritime Sustainment Capability project team based in Ulsan.
Ulsan is just 70km from Daegu, at the time the centre of the South Korean coronavirus outbreak.
An NZDF spokeswoman said earlier several suppliers had been unable to travel to Ulsan to complete system commissioning and testing, due to international travel restrictions, and the project team were working on options for completing the work.
The supply chain for the ship's builder Hyundai Heavy Industries (HHI) had also been affected by a reduced manufacturing and transportation capacity, the spokeswoman said.
In addition, the pandemic affected training courses for New Zealand based crew of Aotearoa.
The spokeswoman said early reports from those who had been on board the ship during seal trials were positive.
But it appears there were some teething problems getting to grips with the high level of automation aboard the ship.
"Aotearoa is a modern naval ship and so there is a high level of automation and system control, which will take time to learn and understand better.
"The design also requires a high level of system integration which inevitably results in challenges that need to be overcome in the construction and commissioning stage."
NAVY'S LARGEST EVER SHIP
The ship was purpose-built to support the Navy's combat and humanitarian relief functions, along with operational and training support.
She is able to support operations through resupplying land, air and sea units with fuel, food, water, spare parts and ammunition.
It features on-board desalination plants able to produce 100,000L of fresh water per day, designed for use during a humanitarian crisis.
An earlier fleet replenishment tanker, the HMNZS Endeavour, was decomissioned in Auckland in 2017 after three decades of service.
A spokeswoman said the Aotearoa offered significant extra capabilities, including a large flight deck and hangar facility to operate and maintain NZDF helicopters – the Endeavour could not land any of the current NZDF aircraft on board.
It can also carry 22 shipping containers compared to the Endeavour's four.
The Aotearoa is ice-strengthened for Southern Ocean monitoring and Antarctic operations resupplying McMurdo Station and Scott Base.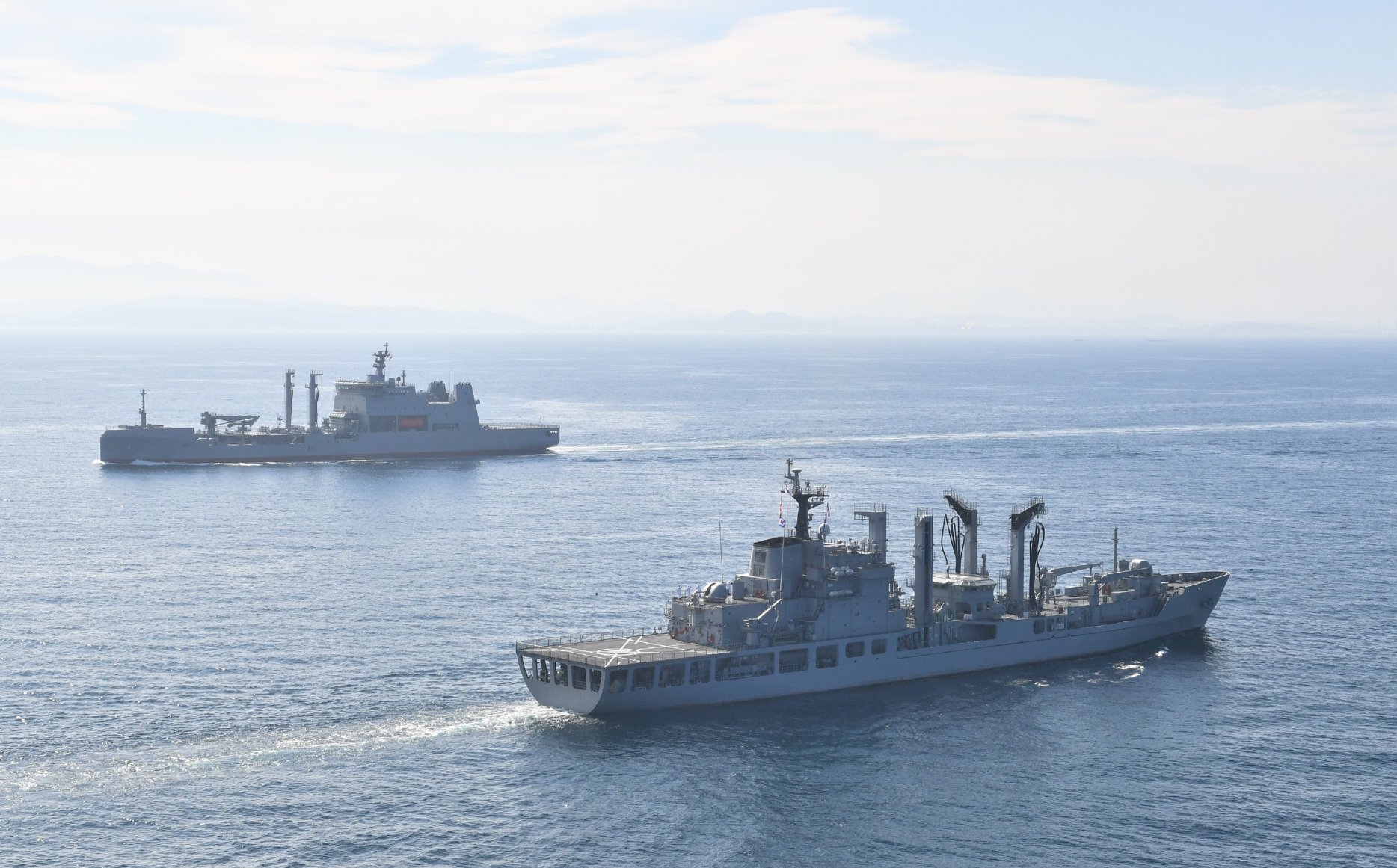 HMNZS AOTEAROA FACTS
• Class: Auxiliary Oiler Replenishment (AOR)
• Shipbuilder: Hyundai Heavy Industries, Ulsan, South Korea
• Propulsion System: Combined Diesel Electric and Diesel (CODLAD) provided by 2 x Bergen B33:45L9P diesels supplemented by 2 x electric power take in motors. 2 x flap rudders and 2 x controllable pitch propellers
• Power generation 4 x 2.6MW MTU 20V4000M53B, 1 x 410kw STX KTA19DMGE emergency generator
• Length: 173.2 metres
• Beam: 24.5 metres
• Draught: 8.4 metres
• Displacement: (full) 26000 tonnes
• Range: 6750 nautical miles
• Design speed: 16 knots
• Total liquid cargo capacity: 9500 tonnes
• Dry goods cargo capacity 22 x twenty foot equivalent units
• Core Crew: 64
• Bunks: 100 (including 2 in the sick bay and a VIP cabin)